Vision
Our vision is to be a worldwide leader with the highest quality products and service, supported by highly trained and motivated employees who embody our mission.
Mission
Our mission is the transformation of glass using superior manufacturing technology . We also strive to fulfill our customers' quality and service expectations while maintaining our competitiveness through empowerment . This contributes to our company's growth and prosperity, while adequately and fairly compensating the members of our organization, their families, our stockholders and society.
History
Tecnoglass S.A. began operations on the 18th of April 1994, as an alternative for the production of tempered glass, laminated and insulated glass, glass with screen printing, bullet proof glazing and curved glass, responding to market demand for high quality products, competitive prices and timely deliveries. The company was established after C.I. Energía Solar ESWindows S.A., a company belonging to the same corporate group, started demanding windows and facades that incorporated glass with the most sophisticated specifications.
For multiple uses such as facades, refrigeration units and appliances, among others, Tecnoglass offers its customers a wide range of products such as thermo-acoustic glass, ideal for large spaces that require temperature control and / or noise reduction and laminated glass that exceeds market quality standards. We are the number one supplier for most of the constructors on South Florida where the highest construction standards prevail.
Alutions by Tecnoglass, a company dedicated to the production of aluminum profiles, was created in 2007. With this new company fully running, our production cycle is now unified: aluminum profiles, glass and windows, thus achieving shorter production spans and more competitive prices. With three specialized companies, a comprehensive production cycle and a sophisticated portfolio of clients, efforts focus on acquiring the latest technology.
In mid-2013, our corporate group takes on a new challenge when Andina Acquisition Corporation, a Special Purpose Acquisition Company (SPAC), signed a definitive agreement to merge with Tecnoglass S.A. and C.I. Energía Solar S.A - ES Windows. Later that year, the merger with the corporate group is completed by creating Tecnoglass Inc. On December the 20th, 2013, Tecnoglass Inc. becomes the first Colombian company to be listed in Nasdaq, one of the most prestigious securities markets in the world. On the 24th of January, 2014 the traditional operations opening bell rang.
Modernization and investment in key equipment have always been a priority. This is why Tecnoglass S.A. is always implementing the best technology for glass transformation processes. Starting 2015, we began offering clients TecnoAir, a new and sophisticated product with the latest technology for glass tempering, which replaces the traditional rollers for an air-pressure system that completely eliminates distortion and iridescence, enabling the production of the world's thinnest security glass.
In 2015, Tecnoglass also launched TecnoBend: curved glass with high tempered Low-E level in large dimensions, which responds to trends in design and allows more possibilities, therefore providing the perfect balance between processing time and temperature for an impeccable product. We also have the first float-type tempering furnace on the continent and are leaders in the region in size for curved glass.
On the 8th of September, 2015, Tecnoglass inaugurated its new Soft Coat (low emissivity) factory; the first of its kind in Colombia and the second one in Latin America, after Brazil. With an extension of 20,000 square meters, our new factory has high end German technology, that allows for a substantial reduction in the cost of waste generated by the limitations of standard-sizes produced today in the market for this particular type of glass.
On January 6, 2016 the headquarters of the Group, Tecnoglass, Inc. ventured in the Colombian Stock Exchange (BVC), listing its shares under the mnemonic TGLSC. This dual listing (Nasdaq: TGLS - BVC: TGLSC) facilitates access for local investors to shares issued in the primary market of the Company: The Nasdaq Stock Market in the United States.

Meeting the Demand for Better Quality
Strategically located on the northern coast of South America on the Colombian Caribbean sea, the Tecnoglass group (Tecnoglass, Alutions and ESWindows) is fully integrated and controls the manufacturing process from beginning to end. As a result, we can guarantee to our customers in the Americas and locations around the world the best quality and superb service at fair prices. We don't perform random quality control on our products—we inspect every single item before it leaves our facility. That is the power of quality.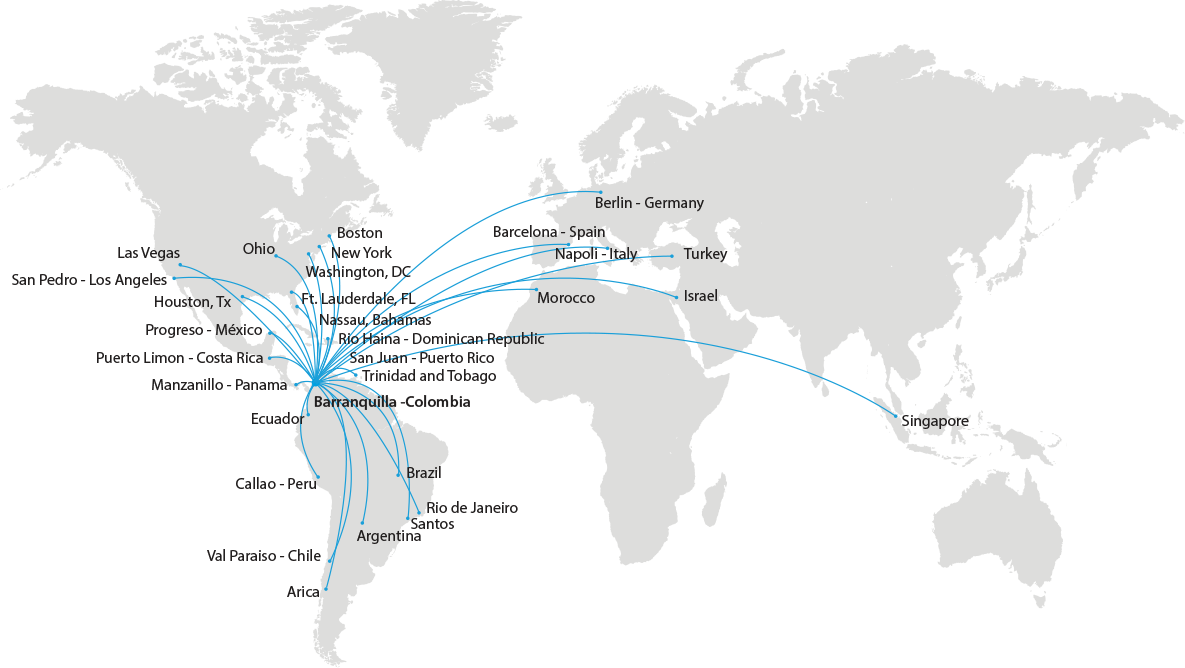 Strong relationship with local communities.
For several decades, we have committed resources to improve the quality of life of our employees and the local communities surrounding our company's facilities. As a result of these initiatives, we have developed close and cooperative relationships with local communities in Colombia, which are supported by several social responsibility initiatives we have undertaken. We consider our employees as the key motors of our historical and future success and therefore have focused initiatives of our non-profit, the Tecnoglass-ESWindows Foundation on offering our employees and their families the resources to purchase or improve their homes through the Programa de Mejora de Vivienda; as well as educational stipends for higher education pursuits through our program, Programa de Becas. The Tecnoglass-ESWindows Foundation supports a school for primary and secondary education in La Paz neighborhood in Barranquilla, Colombia. We work through alliances with other non-profits in different projects, such as Colombia: Una Campo para Soñar y Crecer that supports children in vulnerable neighborhoods in Barranquilla and its surrounding communities through the enhancement of their sports skills. In 2015, the Foundation in alliance with other non-profit organizations, opened the first orphans home in Barranquilla, named Internado Monseñor Victor Tamayo.