Paint
This process consists in applying a liquid coat of electrostatic paint on previously treated profiles. The pieces are painted using electrostatic discs that create a uniform and continuous coat. Later they receive thermal treatment defining the final properties.
Composition
Electrostatic paint is an emulsion or a homogeneous blend of non-mixing liquids that basically consists of:
A pigment that defines the color.
A resin that gives mobility to it.
One or more solvents that improve its diffusion
Additional additives that grant proper characteristics.
Advantages
10-20 years durability, depending on the finish.
More homogeneous, as far as tonality is concerned.
Broader color spectrum.
Maintenance free.
Excellent brightness, adherence and weather resistance.
Easier to manufacture.
Flexible and resistant.
The chemical pre-treatment of the profiles in paint is done using an acid de-greaser and an electrostatic gripping solution. We also use a series of rinses that prepare the profile surface for the application of the paint.
We have a paint capacity higher than 1500 processed tons per month, and the infrastructure required to paint any kind of shape in lengths up to 7.3m.
Finishes
We recently started applying powder coatings, wood grain and marble/ stone finishes, always looking for new technologies and going far beyond expectations.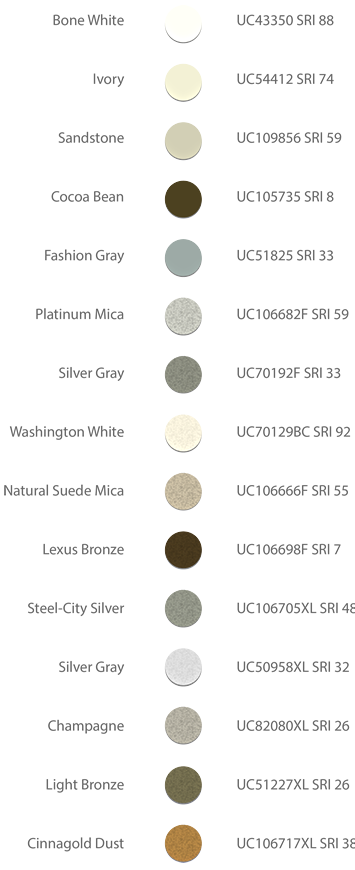 Main quality tests for this finish
After the profile has been painted or anodised, it is ready to be packed and delivered to the door and window industry. Alutions by Tecnoglass thus fulfills its mission. Multiple specification profiles in assorted colors are ready to become a solution.
AAMA Specifications Trial

| Mechanical | Chemical | Mechanical | Chemical |
| --- | --- | --- | --- |
| IMPACT | ADHERENCE | ADHERENCE | CURED |
| AAMA 2605 | AAMA 2605 | AAMA 2605 | AAMA 2605 |
AAMA Specifications Trial

| Mechanical | Mechanical | Photometric | Photometric |
| --- | --- | --- | --- |
| HARDNESS | MICRAGE | BRIGHTNESS | COLOUR |
| ASTM D3363 | ASTM D1400 | ASTMD523 | ASTM D244 |